Create!
Lets get started! Paint, transfers, clay, moulds and more.
It's time to get creative -  join the adventure!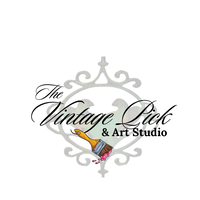 What is The Vintage Pick?
Believing that crafting and art is good for the soul has lead me to bring you many products to create with. What you need can be purchased here, online and in my store. I love to teach my customers to use these products as well thru online videos and in-store classes.
The Vintage pick & Art Studio has moved...
Come for a visit
The Vintage Pick and Art Studio has moved to a new location.
4900 Soquel Dr. at Main St., Soquel
Our new location has 1800 sq feet of shopping and classroom space. There are 10 venders that offer an aray of items for you to explore. I have Dixie Belle Paint, DIY Paint, Roycycled Decopauge Papers and Jami Ray Stencils to offer you. We are open 7 days a week, 11:00-5:00 pacific standard time.