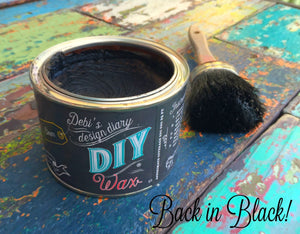 It is suggested to always use a clear wax on your project before using a dark wax.  if you go right to the dark wax your project can look muddy and dirty.  Apply the clear wax, let dry about 15 minutes then start adding the dark wax a little at a time.  If you feel you added too much you can go back and erase the dark wax with the clear wax.  Clear wax is your best friend!!
DIY Wax Finish Treatments
Instructions
1. Allow the DIY Paint to dry completely before applying wax; 15 minutes to a few hours.
2. Use wax brush or lint free cloth to evenly apply a thin layer of wax. The surface may appear uneven or translucent.
3. Allow to dry overnight; surface will even out.
4. After wax has dried, buff surface with a soft cloth to a beautiful hard sheen.
5. Finished surfaces should be kept free of moisture and extreme use for a week or more, to fully cure and harden.

DO NOT FREEZE!
Fast drying low VOC furniture wax.
5 INGREDIENTS + LOVE: beeswax, carnauba wax, candelila wax, isophar, pigment.